A Fence for Hero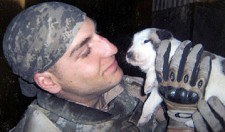 Pet Stop of Northern New England, supplier of Pet Stop, Pet Fence Systems, along with Pet Stop Corporate is donating an underground fence system and its installation for "Hero" a 5 month-old Canaan dog from Iraq. The dog was sent to America by members of the 82nd Airborne who served with fallen Army Specialist Justin Rollins, who cared for the pooch in the war zone and died in a roadside bombing.
The story of Justin and his friend Hero was told on ABC's "Good Morning America", NBC's "Today Show", and CBS's "The Early Show" over the Memorial Day weekend. Since then, Hero has grown into a friendly and playful pup that enjoys a run around the yard with the Rollins family.
"This pup has been through enough war to last a lifetime. We wanted to show our support of the war hero (Justin Rollins) that made Hero such a cherished member of the Rollins family, and provide the safety and security of our system"
says Terri Kyller, co-owner of Pet Stop of Northern New England. Furthermore, the President of Pet Stop Corporate,John Purtell, a Viet Nam veteran, was also a member of 82nd Airborne Unit – the same unit as Justin Rollins – and wanted to do something for the family of a fallen comrade.
Kyller, and Willows, have been providing pet containment solutions for over 15 years and teamed up with Pet Stop in 2003.
Pet Stop is owned by Perimeter Technologies Inc., a developer and manufacturer whose corporate headquarters are in Cincinnati, Ohio and manufacturing facilities in Morgantown, Pennsylvania. The company has 185 dealers across the U.S and Canada. Perimeter Technologies is dedicated to developing and patenting products that are safer by design. Additional information about Pet Stop can be found at petstop.com.
Dear Terri & Wayne,

I would like to thank Pet Stop for doing an outstanding job of providing me and my Service Dog (Charlie) with a Pet Fence which I needed as I have recently become disabled.

From Wayne's first visit prior to my purchase of the Pet Fence System to my graduation (at NEADS), which both of you were kind enough to take and look after me, has been nothing short of spectacular! This all occurred within 4 weeks.

I brought Charlie home on a Friday evening, Saturday morning Wayne installed my Pet Stop fence and began training Charlie. During the next 5 days, Wayne came everyday, twice bringing Terri with him to help with the training. Then he used his own dogs to really insure Charlie was fully trained. I believe the actual training time was less and 1 ½ hours. I was amazed!!

But, the social part of each visit was totally unexpected. In addition to the business endeavor, because of Terri & Wayne's personality, honesty, integrity and sincere desire to provide both me and Charlie with a secure Pet Fence System; a great friendship developed! I feel I have known them for years. They have picked up supplies for me and have offered to assist me if I needed help. This is even after the commitment for the installation of a successful Pet Fence System.

I am extremely happy with my system and would be very pleased to recommend it to other potential Pet Stop customers.

Sincerely,Ray Lindsay and "Charlie"
Dear Terri and Wayne,

I am writing this letter because I believe in giving credit where credit is due. It is rare to be truly surprised and impressed by a product's effectiveness. We have two dogs, a German Short-haired Pointer and a Beagle. A growing family and limited training skills,

hindered the training our two dogs when they were puppies. We love them but they did all they could to escape our fenced-in backyard and from our house. The pointer jumped over the fence and the beagle tunneled under. We own 2 acres of wooded land and it seemed a waste to put the dogs on a tether to keep them from running away. However, we did it because we thought there was no alternative. The results were less than ideal. The dogs barked relentlessly, and worse, they tangled the ropes around themselves creating a health hazard. This simply would not do. Next, we tried to keep a closer eye

on them to see how they were escaping with the idea that we could change our yard to keep them from escaping. This was not practical either. The last straw came when our over-zealous beagle burrowed his way under the fence and ran onto our neighbors' property. We did not even know he had gotten out. A few minutes later the phone rang.

It was our neighbor. The beagle had gone through their opened garage door and wasbarking at them in their own home. To say the least, they were upset at what washappening. They demanded that we do something to get the dogs under control. Mywife suggested an underground fence. I thought the idea was ridiculous and that it had nochance of working. The alternative would be to get rid of both dogs. Something had tobe done so I called Pet Stop. I explained my situation and Terri assured me that the system would work. I did not believe it and told her so. I thought it was a waste ofmoney because in the end I thought we would have to get rid of the dogs anyway. I am happy to write that I have converted and I am a true believer in the Pet Stop System.

The Pet Stop System was installed in a couple of hours, the dogs were trained, and setfree. IT WORKED! The dogs responded cautiously at first but were instantly containedyet free to play throughout our entire property. The pointer escaped almost immediately but when she past the boundary, she responded exactly as she had been trained to earlier in the day. She immediately returned to our front porch. Never again in two years have either dog left our property. The dogs are still enticed by strangers walking down our street, cats lying in the grass just beyond our property, and other animals, but the dogs never leave our property. We leave them outside with complete confidence while wetake day trips. The Pet Stop System works extremely well for us and I recommend it to everyone I know.

Thank you Terri and Wayne for providing an extremely effective product. And thankyou for the great service that you have provided our family. The Pet Stop System has completely changed our pet experience.

A true believer since April 2002Stephen Quigley
46 Tuck Dr
Fremont NH 03044