Dog Fencing
Service and support is an important element when considering which supplier you should work with for your dog fencing. You deserve to have any potential problem or complication resolved for you quickly, efficiently and in a friendly manner.
Pet Stop of Northern New England provides the best electronic fence for dogs available, and you will be able to keep your pet safe, comfortable and healthy while you rest easy with great peace of mind. Combined with our great technology and superior products, it is our commitment to quality customer support and service, years of knowledge and genuine love of animals that translates to happy customers.
Outdoor Solutions
We provide installations of outdoor underground fencing system that will not only keep your pet safely contained, but can also keep your pet out of your garden, landscaping, pool or other off-limit zones.
Indoor Solutions
Along with our outdoor systems, Pet Stop® offers indoor pet containment solutions as well – you can keep Fluffy off the kitchen counter and prevent Fido from ripping up your furniture! Our indoor transmitter features the same extremely customizable settings and features as the outdoor transmitting, and can pinpoint zones from entire rooms down to just a few square feet.
Humane Training with GentleSteps™
Our GentleSteps training is unique, and allows you to rest easy knowing that your pet has been trained without being unduly harmed. Pet Stop® redesigned the incredibly popular UltraElite Receiver to provide the lowest bank of correction levels in this industry. Now, you can incrementally increase correction levels as your pet learns the boundaries. Keep your pet safe and enjoy complete control and customization. Our system provides literally thousands of adjustments to accommodate young or timid dogs as well as high drive and easily excitable dogs, and all kinds of temperaments and styles. No other manufacturer provides you with the keys to the car like we do.
Learn More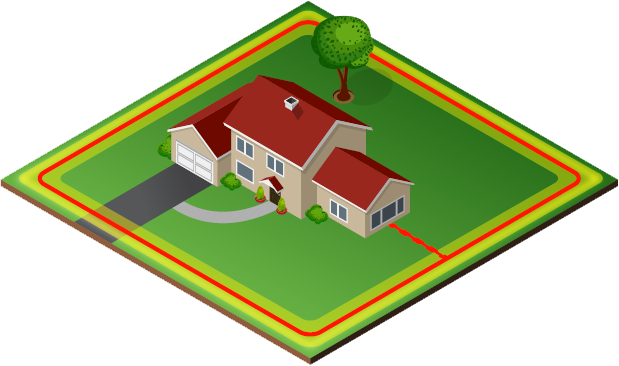 Full Perimeter Loop
Our most common layout installation is a Full Perimeter loop. This layout gives your pet free range to roam your entire yard but not leave it.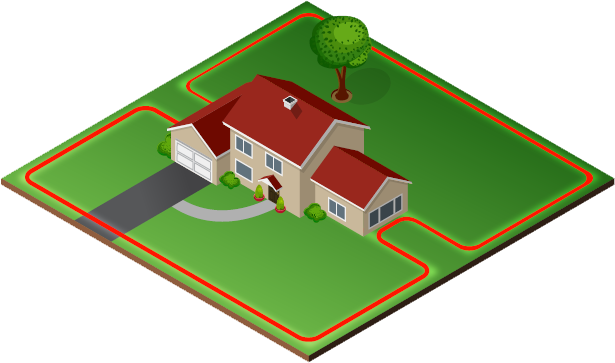 Figure 8 or "Pinch in"
Also common is the Figure 8 layout. It's like the Full Perimeter loop, but with a pinch in the middle. This allows you to contain your dog in either the front yard or the back yard, it's up to you.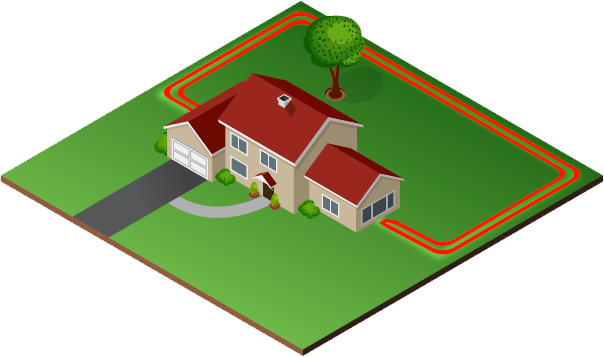 Double Loop
The Double Loop layout is used to contain only the front or back yard. It's generally only used when your property's geography won't allow for installation around the whole property.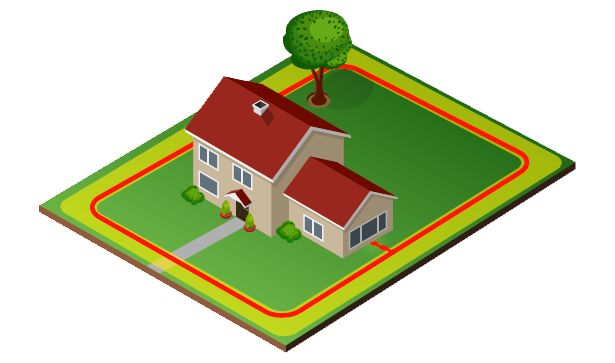 Edge-To-Edge™
Small yards are no problem at all for Pet Stop® technology. Our boundary fences offer settings to create a one-sided signal zone around the perimeter wire in order to maximize the amount of yard your pet can enjoy.
Invisible Fence Support
Our Pet Stop® brand dog containment products allow us to match competitors signals as needed, and can be programmed to work on most electronic fence for dogs systems on the market. This means you can upgrade just one component or an entire system using the existing wire, offering great flexibility and convenience. You don't need a brand new installation to receive our enhanced products and superior support. Ask us for special trade in prices on Invisible Fence® or other brands of electric dog fences. Contact us to schedule a free estimate.
Get Support